Meet Rosie Davies
Machine Operator at Penny Hydraulics
A Close Brothers funded apprentice, Class of 2018
"Having such an experienced team around me has helped me progress in my career and develop as a person too."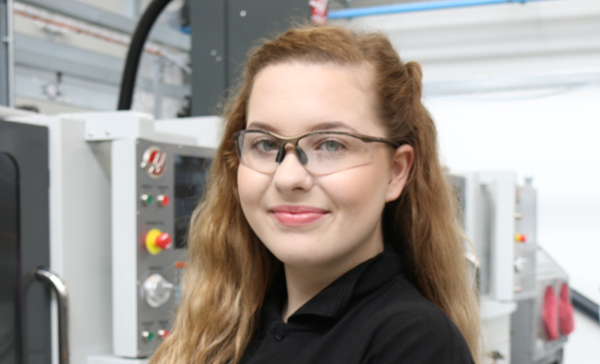 Having been taken on full-time last month, we caught up with Rosie Davies, a Close Brothers funded apprentice.
Rosie joined the University of Sheffield AMRC Training Centre apprentice programme in 2018. After spending the first two years of the scheme at airline giant Boeing, Rosie moved to Penny Hydraulics, a manufacturer based in Chesterfield that specialise in delivering hydraulic lifting equipment.
Rosie took us through her apprenticeship journey, from her first days, where she confessed to being intimidated by the scale of the machinery, all the way through to being a fully qualified Machine Operator, capable of handling machinery with confidence. 
Rosie attributed this progress to the workplace culture at Penny Hydraulics. 
"It has been three years of non-stop learning. Having such an experienced team around me has helped me progress in my career and develop as a person too. I am so much more confident now."
When we asked Rosie whether she would recommend an apprenticeship to a friend: "100%, Absolutely! Learning a skill whilst on the job is so beneficial because it allows you to put what you learn straight into practice, which helps you absorb it so much better." 
Reflecting on her favourite moment as an apprentice, Rosie said "Definitely the moment I had the confidence to first programme a machine on my own, it was really a snowball moment for me and from that point I started doing more and more." 
It has come full circle for Rosie, who is keen on helping the next generation of apprentices.
"It really is fun to lend a helping hand to the new apprentices and pass on what I know to them, they remind me so much of myself when I first started out and the fact that I am now skilled enough to help them shows how well the scheme has worked."  
It was lovely chatting with Rosie, and we wish her the absolute best in her future. 
If you want to read our original interview with Rosie, you can here.
Click here to find out more about our recently announced partnership with the AMRC to fund a further 20 apprentices through our Close Brothers SME Apprentice Programme.