Changing the story for children
Helping children to develop the reading skills and confidence they need for a fair chance in life through our support with the Bookmark programme.
Supporting children's literacy and education recovery
We are proud of the positive impact we have through our charitable partnerships.  Bookmark, the children's literacy charity, is one of these.  
Through our donation of £100,000 and our employees delivering voluntary reading sessions through the Bookmark programme, we are giving disadvantaged children the reading skills and confidence they need for a fair chance in life. 
The pandemic has had a huge impact on children with over 18 months of disrupted learning.  Pupils in Years 1 and 2 are an average of three months behind where they should be, and disadvantaged children are up to seven months behind their peers.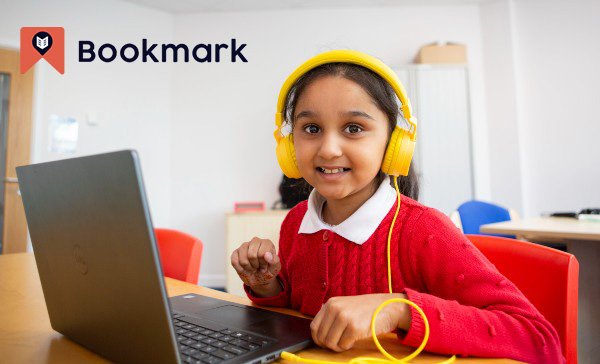 Making a lasting impact on children's futures
"I like reading with my volunteer because I can have a try and get smarter"
Child on a Bookmark programme
How we helped change the story for Mya
Mya is 5 years old at a school in Tower Hamlets, London. Her school has identified her as a vulnerable child and, like many children in the community, she receives pupil premium funding. There isn't a lot of time for her to read with an adult at home and most days she would forget to bring her book to school with her. 
Mya's phonic and literacy assessments showed that she was below the expected standard of reading for her age. Her difficulties with reading were also affecting her wider learning and meant she wasn't making much progress. 
In January 2021, Mya's school was struggling to find enough devices to enable their pupil's learning throughout the pandemic, and many children in the class like Mya were at risk of falling further behind. Fortunately for Mya and her classmates, Close Brothers partnered with Bookmark to deliver laptops and online reading support to children across the country who were falling behind, and she was one of them.
16 children in Mya's class alone have benefited from the laptops donated through Close Brothers. 
With the additional laptops available, Mya has completed three online reading programmes. Her teaching assistant says that her reading fluency and comprehension have improved dramatically, and she has moved up in her reading levels and group. She is a better and more confident reader, and gets excited to read chapter books every morning when she comes to school. 
Before reading with Bookmark, Mya was at risk of falling behind permanently. Now, with the reading skills and confidence that she has gained with the support of Close Brothers, she is more likely to finish her education and secure a well-paying job. This is an impact that will last a lifetime.
"Overall, her attitude towards reading has changed significantly and she has made a lot of progress.  This has made a huge impact on her learning."
Mya's teacher
Our achievements so far with Bookmark
Bookmark aims to be available to all children who are at risk of falling behind in their reading, so that together with partners like us, we move towards a world where every child can read.
Together, we can continue to reach more children than ever.
In 2021 Bookmark were able to quadruple the number of reading sessions delivered compared to 2020, despite the January/February school closures. This would not have been possible without the support of Close Brothers.
Our donation and volunteers have been instrumental in helping Bookmark deliver a total of 19,700 one-to-one reading sessions to more than 1,800 children in 2021.
In December 2021 Close Brothers volunteers reached the 250 reading session milestone - the first to do so of any corporate partner.
​​​​​​​Of the children reading with Bookmark:
98% of children improved or maintained their reading level, despite disrupted learning.
86% of teachers noticed an increase in children's reading confidence.
Hear from our volunteers
"Watching the child I read with take onboard the feedback and improve was such a great feeling!"
Natalie
"It's lovely to take a short break from my working day to read with a child.  I would do it 10 times a day if I could!"
Jade
"I've really enjoyed it, especially the fact that it's online.  It was good to see he progressed in terms of ability and confidence.  Reading is so absolutely fundamental, so to be able to give back in this way was really rewarding."
James
"After learning about Bookmark's goals and the vast literacy challenges in the UK, radically exacerbated by Covid-19 disruption in schools, I was keen to make an impact.  Fun bite-sized online sessions allows the flexibility to volunteer around work and supporting Bookmark has been an all-round fantastic experience.  It is highly rewarding seeing a child's confidence grow week on week. 
I am proud that the volunteering is recognised through Close Brothers' partnership with Bookmark.  I would encourage anyone at Close Brothers to get involved with the work Bookmark do." 
Victoria