Our objective
Close Brothers is a leading UK merchant banking group providing lending, deposit taking, wealth management services and securities trading.
Our clients play an important role in driving growth in the British economy. Our role is to help them as they grow – providing financial support and advice to small businesses and individuals across the UK.
Our values
At Close Brothers we provide financial support and advice to small businesses and individuals throughout the UK. Our clients are the makers of things, the wealth creators, the investors and the savers. They are playing an important role driving growth in the British economy and we are supporting them as they grow.
Throughout our history, we have remained focused on upholding our traditional values of service, expertise and relationships. At the same time, we encourage innovation and support enterprise, reflecting how our clients do business.
Our business model
Close Brothers has an established reputation as a responsible bank with a distinctive, prudent business model and a long-term approach. We focus on providing straightforward products and services in sectors we know and understand, and delivering quality and reliability for our clients.
We remain committed to our traditional values of service, expertise and relationships alongside teamwork, integrity and prudence, to help the people and businesses of Britain thrive over the long term.

Our distinctive approach
We focus on our core values which drive strong employee engagement and customer loyalty and are the foundations of our Modern Merchant Banking approach.
Across our businesses we have a deep knowledge of the industry sectors and asset classes we serve, which allows us to provide firmer lending decisions and faster access to funds when clients need them most.
We take a prudent approach to managing our financial resources. We maintain a prudent maturity profile, with diverse sources of funding, and a conservative capital position throughout the cycle.
Each of our businesses is a specialist in its own niche market, driven by a strong customer led proposition and long-term client relationships.
We apply our lending criteria consistently at all stages in the financial cycle, which protects the quality and returns of our lending while providing continuity of service for our clients.
Our lending is predominantly secured, with conservative loan to value ratios, small loan sizes and short maturities.
Strategic priorities
Protect
Maintain prudent underwriting and strong margins in our lending
Maintain a sound level of funding, liquidity and capital
Maintain our strategic imperative of investing to protect our business
Key performance indicators (at 31 July 2020)
Common equity tier 1 capital ratio
14.1
Funding % of loan book
135
Improve
Help our customers do business with us by adapting to their needs and investing in technology, people and products to improve our proposition
Maintain a disciplined approach to cost management and operational efficiency
Empower our employees through training, development and diversity
Key performance indicators (at 31 July 2020)
Banking expense/ income ratio
52
Extend
Maximise the opportunity in each of our markets, within the boundaries of the model
Identify new products, distribution channels and adjacent market opportunities
Key performance indicators (at 31 July 2020)
Shareholder returns
We invest through the cycle to grow our business.
We continuously explore and develop new niches.
Our strong returns through the cycle support our progressive and sustainable dividends.
Key performance indicators (at 31 July 2020)
8.0
Return on opening equity
74.5
Adjusted basic earnings per share
We are committed to creating an environment where our employees are supported and motivated by providing them with opportunities to realise their full potential.
We have a strong commitment to creating and promoting a diverse workforce, with focus on supporting all individuals irrespective of their gender, race, age, disability, sexual orientation or religion.
We believe in rewarding our staff fairly and transparently, ensuring that remuneration across the group is linked to clear objectives.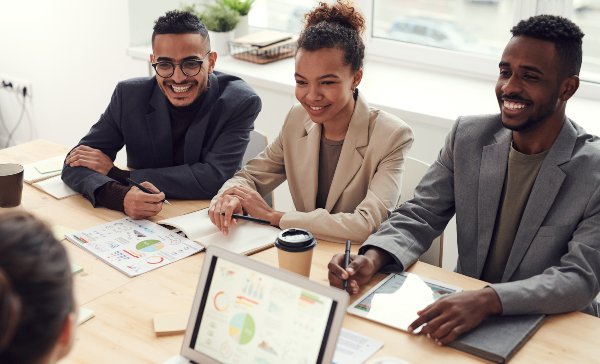 We value and care about our customers and want to remain their trusted partner, by behaving ethically and responsibly in all our dealings with them. This includes continued focus on fair pricing, clear and consistent communication, right outcomes for our customers and high standards across our businesses, our partners and intermediaries.
We ensure full compliance with all relevant regulatory requirements across all our divisions and aim to adhere to the highest professional and ethical standards in dealing with our customers, suppliers and each other.
We care about the environment we operate in and are aware of our responsibility to protect natural resources and to behave sustainably.
We monitor energy consumption and our GHG emissions and continue working to improve our energy efficiency across all our businesses.
We are active in our community and continue to invest in a number of community based initiatives and support the charitable causes that our employees are passionate about.