Meet Ben Siddall
A Close Brothers funded apprentice
"My apprenticeship with the AMRC has been the stepping stone that set me off in the right direction in my career."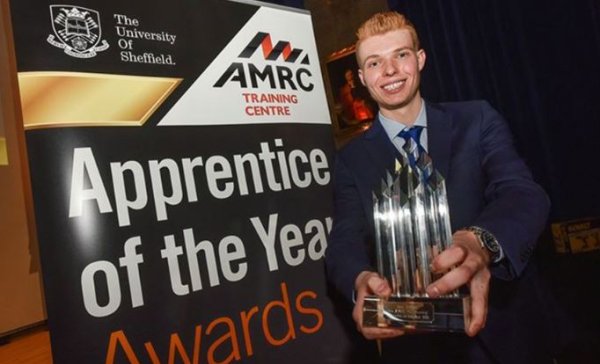 Hear Ben talk about his apprenticeship at C&S Fabrications
Ben Siddall, Apprentice of the Year 2018 Winner
Twenty-one year old, Ben Siddall, a Close Brothers sponsored apprentice, was named Apprentice of the Year 2018 at the Advanced Manufacturing Research Centre (AMRC) Training Centre's awards held on 4 May 2018.
Ben works as a Production and Perforation Department Manager for C&S Fabrications in Sheffield.  His strong work ethic and determination to succeed has already resulted in a promotion and he is now a production manager for his employer. 
Ben said one of the main highlights of his year was utilising the skills he has learnt at the AMRC Training Centre to support improvements in house at C&S Fabrications, such as applying the use of 3D CAD learnt as part of his technical support course.
Managing Director of C&S Fabrications, Shaun Siddall, was at the event, he said: "We are so proud that Ben has won Apprentice of the Year, he is such a fantastic representative for our company.  He has brought a new different approach to the company and as a result has implemented process improvements that have brought great benefits to our workplace, all completely under his own initiative. Bringing in younger talent definitely brings in fresh new ideas and attitudes and having an apprentice join us from the AMRC has been such a worthwhile experience." 
Ben said: "I always knew I was interested in engineering and would join that profession. My apprenticeship with the AMRC has been the stepping stone that set me off in the right direction in my career and given me the practical skills that I needed to progress in my workplace.  In the future I look forward to working my way up within my company and working hard to keep making improvements. I am excited to see what the future holds from here!"