A "proven high-flier" displaying "ambition and academic excellence"
This is how Bethany Cousins was described when she was announced as overall winner of the AMRC Training Centre Apprentice of the Year Awards 2020.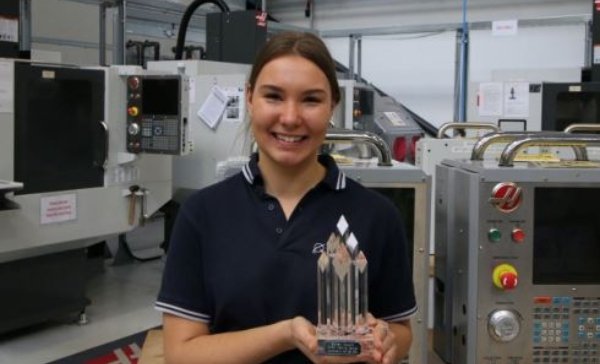 Hear Bethany talk about her apprenticeship at the AMRC
Bethany wins Apprentice of the Year 2020
Bethany Cousins, was named Apprentice of the Year and Degree Apprentice of the Year at the AMRC Training Centre Apprentice of the Year Awards held on 17 December 2020.  
Bethany, a Manufacturing Technology degree apprentice, works as a project engineer at the University of Sheffield Advanced Manufacturing Research Centre ("AMRC"), Her work for the AMRC Gear Centre team focuses on developing novel gear cutting techniques for gear manufacturing.  On her win, she said: 
"It honestly means the absolute world to me and is the perfect positive ending to this year in particular," she said. "This has definitely been the highlight and best way I could have ever wanted to end my apprenticeship journey. 
"I can't thank all of the staff and trainers at the AMRC Training Centre enough. I can honestly say I wouldn't be the engineer I am today without each of them and the AMRC has been a support network beyond anything I could have asked for in an employer."
Sir George Buckley, whose company Stanley Black & Decker was sponsor for this year's awards, described Bethany as a 'committed and impressive apprentice', praising her abilities as an engineer and skills ambassador for the region. 
Ben Cook, Technical Fellow at the AMRC who leads the Gear Centre research team, said Bethany's appetite and enthusiasm for engineering is boundless and she is an asset to the AMRC.
He said: "As soon as she joined us as a machinist, she quickly learned how to get the most out of our new machine tools and was soon suggesting methods of enhancing the quality and productivity of the components she was making for us.
"Now, as a project engineer, she undertakes a much broader role including design of experiments, programming, analysis of data and reporting of results to customers and academia.
"Bethany is accomplished in each area and developing further at pace, which shows the great benefit of her apprenticeship background which has given her such a solid foundation in manufacturing science and application. 
"She is an enormous asset to the Gear Centre team, the wider AMRC and the clients she is undertaking research for and is a highly worthy winner of the Apprentice of the Year award."
December 2020