By Martyn Atkinson, Group COO & Group Executive Sponsor of the Unity - LGBTQ+ Network
It's Pride month and as Executive Sponsor of our Unity - LGBTQ+ Network I thought I'd start the bio series of influential allies of the LGBTQ+ community with an individual that I have always admired. He is someone whose fight has gone from the rugby pitch to fighting for equality, acceptance in many ways his own mental health.
Many of you will know I am an avid follower of sport, football my primary passion but I was forced to play rugby at school (I was totally rubbish!) and I moved from hating the sport (I always got hurt!) to respecting the sport and the values and teamwork integrity it fosters. It was watching sport that I first came across sporting legend Gareth Thomas.
His story is remarkable - from postman to captain of the British and Irish Lions. Universally known by his nickname 'Alfie', Thomas has amassed an incredible list of achievements in more than a decade at the top of his sport. In 2005, he racked up not just the Grand Slam but also a Heineken Cup-winner's medal with his then club, Toulouse. He stepped into the breach as leader of Sir Clive Woodward's Lions when captain Brian O'Driscoll's tour was prematurely ended and he reached the milestone of 100 caps, the most won by any Wales player during the 2007 Rugby World Cup. He was a 'mans-man of rugby'.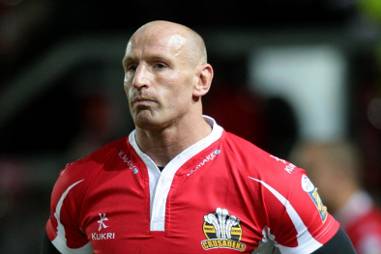 Away from the field
Similar to ex-footballer Clarke Carlisle, who I had the pleasure of hosting last year for an internal speaker event, Thomas' experiences have often read like a real-life soap opera. In 2006, a potentially life-threatening neck injury resulted in a mini-stroke that almost ended his career. There was also a French court appearance for alleged affray and a Six Nations ban following an altercation with Ulster supporters at a Heineken Cup match. A lot of this behaviour was believed to be a disguise, because he was battling his own demons as a gay man that felt trapped because of the 'macho' nature of his sport.
Having informed his family privately, Gareth then took the monumental decision to openly confirm his homosexuality when he was still a professional sportsman. To do this in the public eye would have been scary enough, but to be the first openly gay rugby player and sportsperson would have made this even more daunting. Especially if you think of the environment he endured in as a professional sportsmen.
By being the most fabled sportsperson to come out openly, he has helped break down barriers. He has created a platform that has allowed others to follow suit and be open about who they are, what they represent and more importantly helped them to be comfortable being themselves. He has created conversations in circles that were never happening, and his bravery has created the opportunity (and acceptance) that others in sport have followed.
HIV
But his challenging times didn't stop with him publicly 'coming out'. Due to media pressure to disclose his HIV condition, he made the difficult decision to post a video in 2019 revealing his HIV status. A tabloid journalist turned up on the doorstep of his unsuspecting parents to inform them of the news and ask for comment. Something like this could have been crushing, sent him back to his suicidal days before he opened up, but not for Gareth.
He has used this news as a platform to raise awareness of HIV and his campaigning, coupled with his ironman endeavours has raised huge amounts for HIV charities.
Gareth Thomas has gone from sporting legend, to everyday legend.