By Rowland Thomas, Director Property Finance
Life as we know it will never be the same again. The impact of Covid-19 on retail, hospitality, culture and our way of life is something we will be grappling with for years, if not decades, to come. But in one area we are already seeing some significant changes taking place – our high streets.
Over the past year I have seen developers changing the way they view both residential and commercial opportunities, driven by a shift in attitudes from residents, consumers, businesses and policymakers. So what has changed?
I think a better question to ask is: what hasn't changed? The pandemic and the three national lockdowns have transformed how businesses operate and engage with their customers. For 50% of the population their office was also their home, and 39,700 new firms were set up in 2020 to solely trade from their home via mail order or internet, blurring the line between residential and commercial. According to Companies House, 2020 also saw a surge in entrepreneurialism, with 835,000 new businesses launching – an incredible 40% increase annually. Among the most popular new start-ups were pop-up food stalls, demonstrating the shift in the way we socialise and placing businesses and policymakers under pressure to keep up with changing consumer behaviour.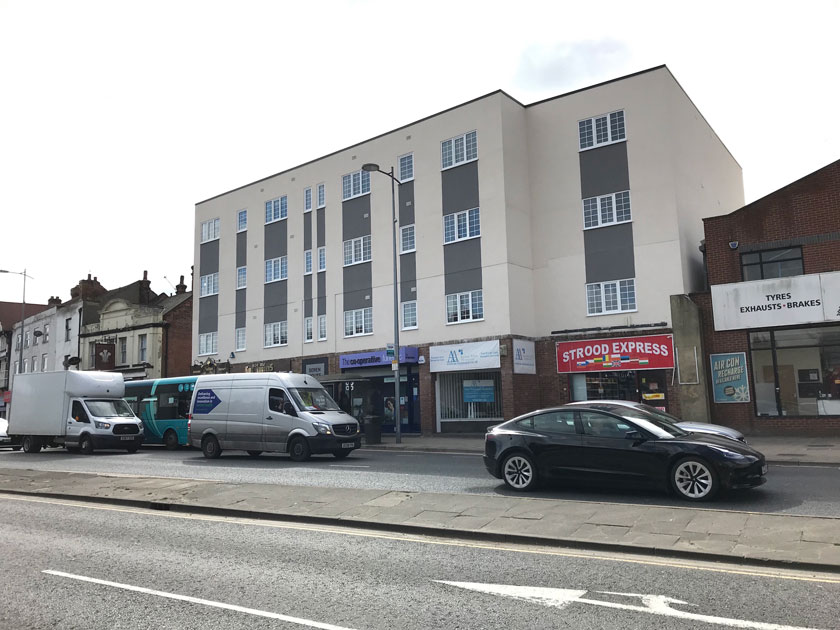 As part of the government's legislative response, on 31 March new rules allowing commercial premises to be converted into homes were announced, forming part of a package to revitalise our high streets. These rules were designed to support the creation of much-needed homes while also giving high streets a new lease of life. Removing eyesores, transforming unused buildings and making the most of brownfield land are just some of the opportunities available for our high streets. Is it time to evolve or die? Between 2008, when the fall of Woolworths sent shock waves across the UK, and 2019, 32 major retailers closed their doors for good, with the loss of more than 115,000 jobs, according to the Office for National Statistics – and that was pre-coronavirus.
The high street's downward trajectory has been accelerated by business failures during the pandemic, and now is the time for a serious rethink and reimagination. The high street as we knew it may not be returning; instead, we can expect to see a new type of town centre appear, potentially in the form of a "20-minute neighbourhood" – a concept that is taking root in towns and cities across the world. A 20-minute neighbourhood is being adopted not only on a local level but by the Town and Country Planning Association and beyond. It can take many different forms, but is essentially a people-focused way of planning, where all day-to-day activities are located within a reasonable walking distance or short cycle from home.
The pandemic has put a spotlight on the importance of creating complete, compact and connected neighbourhoods to safeguard local businesses and services, but also to protect public health; our high streets are the perfect setting for these. SMEs are the best people for the job As a bank with a 50-year history in development finance, Close Brothers always looks to support projects that help not only local communities but also small and medium-sized businesses. Over the past year we have seen a number of SME developers converting or renovating commercial premises to create new commercial/residential hubs on our high streets, and they are excellent people for that job.
SME developers are agile and plugged into their local communities. They understand the nuances of what residents and customers are looking for and are typically able to finance and work on smaller, complicated projects more easily than their larger counterparts. As a result, over the past year we have seen SME developers regenerating high streets up and down the country.
In Nottingham, for example, our long-standing client Stonehouse Real Estate has transformed a listed building in the main shopping thoroughfare to nine residential flats, with commercial properties on the ground floor. While much has been said about the exodus of buyers from city centres to rural areas, these properties have been sold off-plan and approximately 20% above valuation, demonstrating the continued appetite for urban living.
In Strood, Kent, Tywalia has developed 15 flats over three new floors built above five existing high street shops. Again, the development is selling well, with nine sales agreed to date, achieving an average of 26% above valuation. 'Home streets' are the future It is clear that the appetite for residential accommodation on our high streets is a great way not only to increase housing supply but also to protect local businesses and increase consumer footfall. By creatively combining our residential and commercial property sites, we can increase sustainability, reduce reliance on transport, maximise the use of brownfield land and revive and invest in our urban centres.
This is an obvious way for the property sector to build back better following the pandemic, and we look forward to supporting more of these projects as the year progresses.